Remittances sent to Pakistan during Imran Khan rule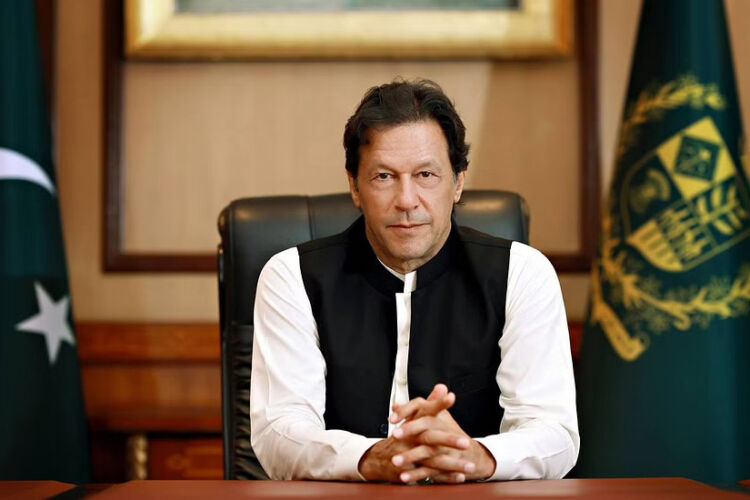 Prior to the start of Ramazan in March 2021, the amount of remittances sent to Pakistan during Imran khan rule by overseas Pakistanis reached an eight-month high of $2.72 billion.
The steady inflows have increased the nation's ability to make international payments, mostly for imports and paying off foreign debt, while also helping to increase its foreign exchange reserves.
ISLAMABAD: Imran Khan, the prime minister of Pakistan, thanked Pakistanis living abroad on Tuesday for sending a record $2.8 billion in remittances in April.
"I have always believed Overseas Pakistanis to be our greatest asset," the prime minister said in a Twitter post today.
"In April, your remittances rose to an all-time high of $2.8bn. Remitting $24.2bn in first 10 months of FY21, you have broken the record level achieved in the entire FY20," he said and added, "Thank you for your faith in Naya Pakistan."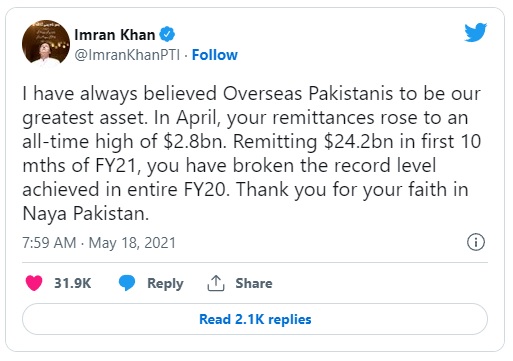 Remittances are crucial to Pakistan's depleting foreign exchange reserves, and there had been concerns that they would decline as a result of the global economic slowdown given the declining employment in the nations where the majority of the money is sent, particularly Saudi Arabia and the United Arab Emirates.
However, the State Bank of Pakistan reported that remittances increased to $2.768 billion in July, an increase of 12.2% from June's remittance figures.
Additionally, in March, Pakistanis living abroad continued to send home more than $2 billion for the tenth consecutive month.
Read also: What is Transall in Information Technology?
When compared to the same month last year, when worker remittances were $1.90 billion, they rose 43% to $2.72 billion in March. According to data released by the State Bank of Pakistan (SBP) in the same month, inflows were 20% higher than in February 2021.
Remittances increased overall by 26% to $21.5 billion in the first nine months (July to March) of the current fiscal year, up from $17 billion in the same period of the previous fiscal year.
The SBP (State Bank of Pakistan) added, "Proactive policy measures taken by the government and the SBP to encourage more inflows through formal channels, limited cross-border travel in the face of Covid-19, medical expenses and altruistic transfers to Pakistan amidst the pandemic, and orderly foreign exchange market conditions are continuing to contribute to this sustained rise in workers' remittances."
Read also: How To Remove Aphrodite Tech Results?
imran khan
imran khan government
prime minister imran khan
prime minister of pakistan
remittances sent to pakistan